Palak Paneer recepie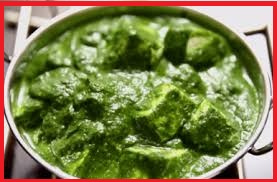 Prep Time : 6-10 minutes
Cook time : 11-15 minutes
Serve : 4
Level Of Cooking : Easy
Ingredients for Palak Paneer for the palak puree:
spinach / palak 1 bunch
green chilli 1
garlic cloves 1
ginger 1 inch
for the palak curry:
butter / ghee - 2 tsp
tej patta / bay leaf -1
cumin seeds - 1 tsp
onion, 1 finely copped
tomato, 1 finely copped
garlic cloves, 1 finely copped
turmeric powder ½ tsp
red chilli powder ½ tsp
garam masala powder ½ tsp
salt to taste
Spinach 900 grams
Paneer (cottage cheese) 200 grams
Green chillies 2-3
Oil 3 tablespoons
Salt to taste
Lemon juice 1 tablespoon
Fresh cream 4 tablespoons
Method
Step 1
Remove the stems and wash spinach thoroughly in running water. Blanch in salted boiling water for two minutes. making the palak (spinach) puree:
boil water and add bunch of palak leaves separating stems.
once the palak changes its colour immediately add the palak leaves containing ice water.
now make a puree of palak adding ginger, garlic and green chilli.
keep the spinach puree aside.
Step 2
Squeeze out excess water. Grind into a fine paste along with green chillies.
Step 3
Cut the paneer into one inch by one inch by half inch pieces. Heat oil in a pan.
Step 4
Add cumin seeds. When they begin to change colour, add garlic and sauté for half a minute. now add the finely chopped onions and garlic.
add the finely chopped tomatoes.
Step 5
Add the spinach puree and stir. add the turmeric powder, red chilli powder and salt. add garam masala powder
Step 6
Add water if required. stir well and add fried paneer cubes .When the gravy comes to a boil, add the paneer and mix well. Stir in lemon juice.
Step 7
Finally add fresh cream. Serve hot.
Responses
Leave your comment