HAIR GROWTH TIPS FOR STRONG AND HEALTHY HAIR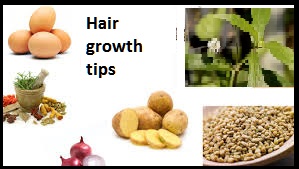 1. Massage

Massaging the scalp with the fingertips help to restore hair growth and conjunction hair oils and masks. Massage your scalp each day help you relieve stress and tension. Massaging lead to relaxing the mind and hair and lead to blood circulation .The massage encourage hair growth and stimulates the scalp and can improve hair thickness.

2. Aloe vera

Appling Aloe vera has has to be usedfor treating hair loss. It also reduce the ddandruff that lead to hair fall , soothes the scalp and conditions hair. Aloe vera has to applied on hair once weekly.

3. Coconut oil

Coconut oil is full of fatty acid that is good for hair growth, it stimulates the scalp and can improve hair thicknessrevent proteein lossfrom hair . coconut hot oil massage stimulate hair growth , you can apply on scalp in night or 2 hours before hair wash . It help in reducing dandruff when applied with lemon. Can be used after hair wash if your hair is dry.

4. Onion juice

Onion smell really bad but it is really very good for hair health, its antifungal properties help in reducing hair fall, . Onion juice improve circulation and rich in sulphure that help in improved keratin growth factor and blood flow to hair. Take few onions, blend it in blender and squeeze out the juice. Apply the juice on hair and leave in for at least 15 minutes. Wash it with plain water.

5. Rosemary oil

Rosemary oil promote hair growth and reduce hair loss .stimulates new hair growth and can be used to treat hair fall. Add few drops of rosemary oil into your palm and massage it into your hair and scalp before rinsing. Add a few drops of rosemary oil into your shampoo and conditioner on a daily basis.

6.Coconut milk

Coconut Milk help in hair regrowth and reduce hairfall. Mixing 1/4 cup of coconut milk in 2 tsp of yogurt , 1 tbsp of honey, 1tbps essential oil and olive oil .Apply thick layer of paste on the scalp let it sit on hair for 15 minutes or more and then rinse off with cool water.
The good old favourite hair hack that our grandmothers used and often advised us to do. Cumin seeds are loaded with antioxidant properties that are extremely beneficial for your hair, the silicon content helps in enhancing volume and increasing the length of the hair too. You can soak cumin seeds olive oil overnight and apply it fully on your hair the next morning. Let it sit for good 15-20 minutes and now you can rinse off using warm water.

7.Green tea

Green tea is good for hair loss and for weight loss. It is rich in antioxidant nd anti bacterial properties .warm a cup of green tea and apply on hair let it sit for some time on hair wash it off with lukewarm water.
8. Eggs

Egg is a good source of protein which is essential for healthy ,strong hair. For protein treatment you need an egg depending on your hair ,can take 2eggs ,beat it properly. Apply this protein mask on hair ,let it sit for 30 mins or 1 hour if you can bear the smell. wash hair with luke warm water. egg make your hair healthy an shinny ,soft. you can also add banana ,coconut oil to it.
9. Fenugreek Seeds
Fenugreek seeds reduce hair fall and make hair grow ,it increase hair volume.
Take 2 tbps of fenugreek seed in bowl and suak it overnight . When it is well soaked grind it and make a fine paste. You can add coconut milkand castor oil to it apply this paste on hair for 1 hour . wash it off with water donot apply shampoo after that. Repeat it once in weekly. It increase hairgrowth and reduce dandruff.
10. Castor Oil

Castor oil is very viscous and very thick that coat hair and reduce hair fall. Its is full of vitamin E and fatty acids that promote hair growth. rregularly using it make hair thick and reduce hair fall. massage equal amount of coconut oil and castor oil on your scalp in circular motion. Leave it on for at least one hour and then shampoo your hair as usual
Responses
Leave your comment