FESTIVALS OF INDIA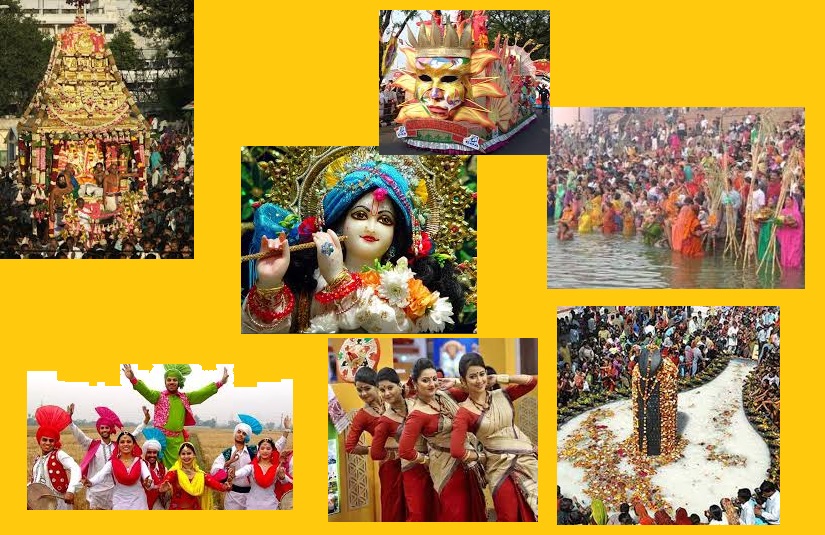 1. Andhra Pradesh - Brahmotsavam
This festival celebrated at Sri Venkateswara Temple in Tirupati in Andhra Pradesh and celebrated for nine days during the months September – October.The Lord Venkateswara diety, along withts Sridevi and Bhudevi, will be taken on a procession on the streets surrounding the temple. Tourists from all parts of India and abroad take part in iit. Brahma, the creator God worshiped Venkateswara on the banks of the holy Swami Pushkarini .Pitr-Paksha- Mahalaya Amavasya, Noopuraraavam ,All India Industrial Exhibition , Bhishma Ekadasi, Deccan Festival, Telugu New Year, Ugadi (Gudi Padwa), Sri Rama Navami Festival, Vinayaka Chaturthi, Durga Festival, Nagula Chavithi
2. Arunachal Pradesh - Losar Festival
The Tibetan called their New year as Losar and is celebrated for 3 days in January or February. It is a ceremonies that represent the struggle between good and evil ,people chanting passing fire torches in the crowds and dance of the deer and the amusing battles between the King and ministers. It is specially characterized by dancing, music, spirit of merry making.Boori Boot – Nyishi, Hill Miris Festival, Losar – Monpa Festival, Tamladu – Idu-Mishmi tribe, Oriah – Wancho tribe, Ali-Aye Ligang – Mishing tribe, Nyokum – Nishi Festival, Mopin – Adi Festival, Pongtu -Tutsa tribe, Sanken – Khampti and Singhpo tribe, Moh or Mol – Tangsa tribe, Dree – Apatani Festival, Solung – Adi Festival, Chalo Loku – Nocte tribe.
3. Assam -
It's a Happy New Year! The spring festival Bohaag Bihu or Rongali Bihu ushers in the New Year in the State of Assam, which is start of a new agricultural cycle and girls in traditional dresses sing "Bihugeets" and dance the traditional "MukoliBihu". Fairs are organized where peoplevisit each other's houses, exchange gifts. This is celebration time and people enjoy for many days.Magh or Bhogali Bihu, Dehing Patkai Festival, Elephant Festival, Pragjyothi International Dance Festival, Bohag Bihu, Bihu.
4. Bihar - Chhath Puja
Chhath Puja called Dala Puja is connected with worshiping the sun is traditionally celebrated by the people of Bihar. Chhath celebrated in the months of October or November. All people dress up in their new clothes ,by rivers and other water bodies to ,Lamps are lit and devotional folk songs sung for 'Chhat Maiya' or Ganga. Rajgir Dance Festival, Chhath Puja, Sonepur Cattle Fair.
5. Chattisgarh - Bastar Dussehra
Bastar Dussehra isthe longest celebrations in the world which is celebrated in Bastar .It is celebrated over 75 days starting around August and at October. Different tribes participate in it traditional customs like 'Pata jatra', or 'Deri Gadhai'- Posting of the pillars, Kachan Gaadi- Kachan Devi, Kalash Sthapana- Installation of urns, Jogi Bithai- Jogi's penance, Rath Parikrama- The chariot circuit, Nisha Jatra- The nocturnal festival, Jogi Uthai- Raising of the jogi, Maoli Parghav- Reception of Devi Maoli, Bheetar Raini- The inner circuit, Baahar Raini- The outer circuit, Kachan Jatra- Thanksgiving ceremony, Muria Durbar- The tribal chieftains' , Ohadi- A farewell to deities.
6. Goa - Carnival
This is the exciting three-day non-stop extravaganza of fun, frolic, song, music and dance is uniquely Goan! it include feasting-drinking-merrymaking just before the 40 days of Lent; a time of abstinence and spirituality. The Carnival parades through the cities with bands, floats and dances balls in the evenings. The famous Red-and-Black dance organised by the Clube Nacional in Panjim. . The festival attracts thousands of tourists.
7. Gujarat - Janmashtami, Diwali
The birth anniversary of Lord Krishna is celebrated as Janmashtami . Fasting all day and eat after the midnight birth ceremony. All theTemples and homes are beautifully decorated .Mathura has many temples of lord Krishna which is night long prayers are offered and religious hymns are sun and small children dress up like Lord Krishna . Lamps are lit all the houses and sweets are distributed to all people. It the beginning of the New Year.
8. Haryana - Baisakhi
This festival of Baisakhi represent the harvest of Rabi crops . All the farmers celebrate it with lots of joy in Punjab and Haryana. The day of Baisakhi "Jatta aayi Baisakhi" move towards the fields to celebrate the occasion. The traditional folk dances Bhangra and Gidda is performed by men and women to the beat of Dhol. Wrestling bouts, singing and dancing are performanced
9. Himachal Pradesh - Mahashivaratri
Himachal Pradesh is place af biggestis said biggest Shivaratri celebration in the country. The celebration isinternational Mandi Shivratri Fair inear the Temple of Bhoothnath (Lord Shiva) that lot of tourists from all over the country and abroad. Shobha Yatra is conducted with lot of participation. The entire night during Shivratriis celebration with full spirit. A combination of five pure ingredients comprising milk, butter, curd, honey and sugar is offered to Lord Shiva.
Responses